Did you know that house fires kill more Australians than natural disasters? Yes, more people in Australia die from house fires compared to the combined death toll of floods, storm and bushfires. As a result, basic fire protection is so very important in today's day and age.
Deadly, yet avoidable
These figures come as a harrowing surprise, as most fires are preventable if adequate precautions are taken. Following basic fire protection guidelines could reduce the chance of fire, and in turn protect homes and people from such tragedy.
Basic fire protection
Apart from being skilled up on how to deal with different types of kitchen fires, here are some tips: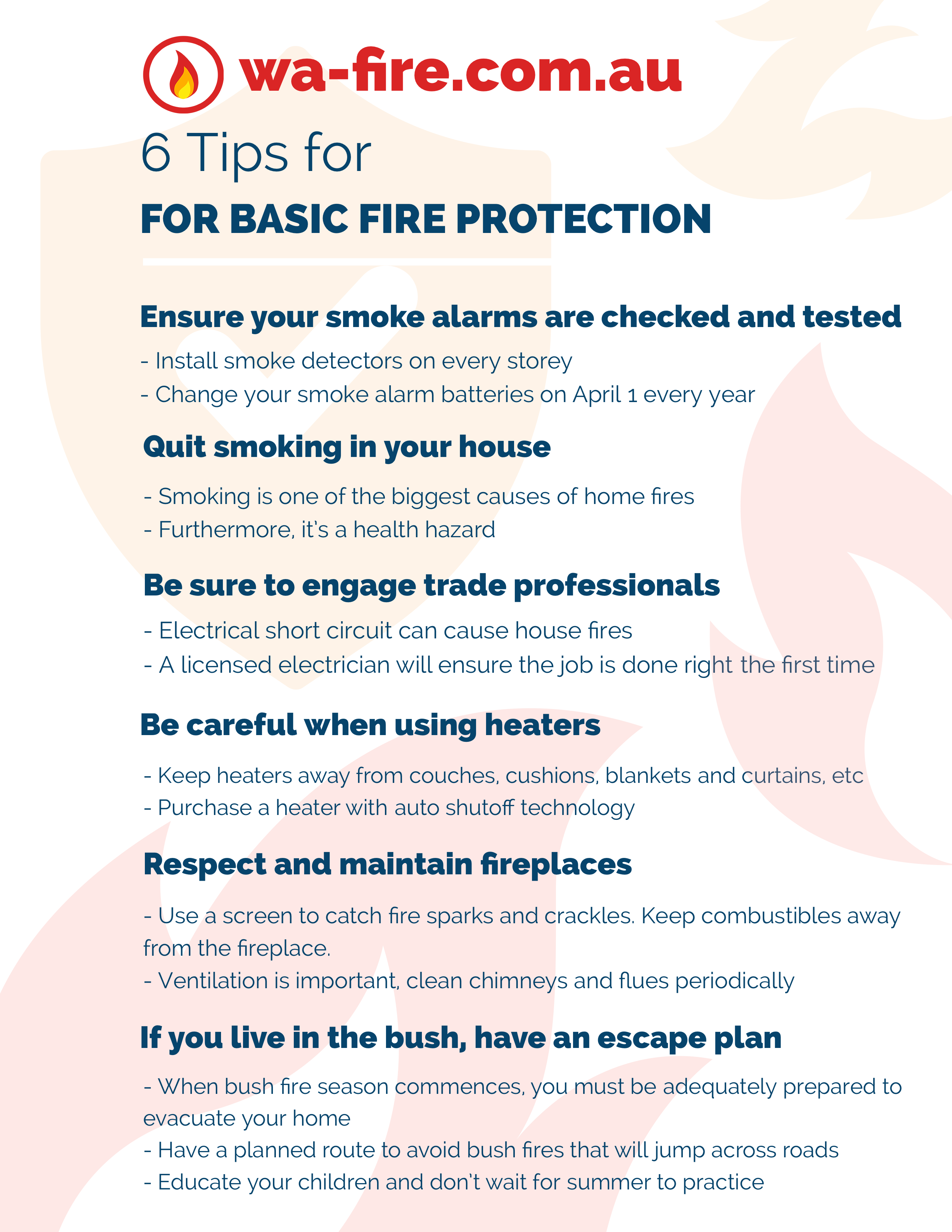 Ensure your smoke alarms are checked and tested
One of the best ways to prevent fires in your home is to install smoke detectors on every storey. But, that's no the be all and end all. Once your smoke detectors are installed, it's important to change your smoke alarm batteries on April 1 every year, unless your smoke detectors are hardwired into your electrical mains. Failure to test and check your smoke detectors on a regular basis and in fact the smoke detector should also be tested in whole. Make it a point to replace the battery every year.
Quit smoking in your house
Do not smoke in your home, as it is one of the biggest causes of home fires and a simple way to enhance basic fire protection. Furthermore, it's a health hazard.
Be sure to engage trade professionals
Electrical short circuit can cause house fires, be sure to engage an electrical professional who will treat your home like their own. The workmanship of a licensed electrician will ensure the job is done right the first time. A sparky will also ensure your circuit breakers are doing their job.
Be careful when using heaters
Make sure that portable heaters are kept at a suitable distance from combustible materials such as couches, cushions, blankets and curtains, to name just a few. It's also worth purchasing heaters that possess basic fire protection such as auto shutoff technology, in case of overloading or overheating.
Fireplaces should be respected and maintained
Implement a screen to catch fire sparks and crackles. Keep combustibles, including wood and fire starters at more than suitable distance from the fireplace.
Maintenance tasks include clean your chimneys and flues periodically. Ventilation is important, be sure to dislodge any debris or items that may have gotten stuck.
If you live in the bush, be sure to have an adequate escape plan
Basic fire protection starts with an escape plan. When bush fire season commences, you must be adequately prepared to evacuate your home. Don't wait for the summer to practice your escape, be sure you and your family are able to evacuate your house and have a planned route to avoid bush fires that will jump across roads. Educate your children accordingly.
You should also be informed about the new changes to bushfire warnings.
Contact us for more info
These are some basic examples of how you can protect life, your home and the environment from fire. If you need more assistance with arming your home or business, contact WA Fire today.
Home fire safety starts with you, check out these 10 additional tips.