If you didn't hear about the false alarm at the MCG in the middle of a footy match, here's a quick rundown of what took place:
In the second quarter of Collingwood vs Adelaide, at approximately 2.24pm on March 26, the emergency evacuation system was automatically triggered in a food outlet of the Ponsford Stand.
The alarm rang out across the entire stadium, ordering the entire evacuation of the stadium, while players were ordered to stand in the middle of the field.
An investigation into the issue took place immediately and no evidence of risk to patrons was detected.
Venue management was able to stop the evacuation and patrons returned to their seats after approximately 5 minutes.
MCG staff alerted patrons through social media and the scoreboard that it was a false alarm, and the game was recommenced.
Truly bizarre scenes for an AFL match that are an unfortunate daily occurrence in the commercial sector.
False Alarms Are Expensive and Can Be Avoided
Liken a false alarm to the boy who cried wolf; when a genuine emergency situation arises, your staff may disregard the ringing siren as yet another false alarm. This complacency can put lives at risk!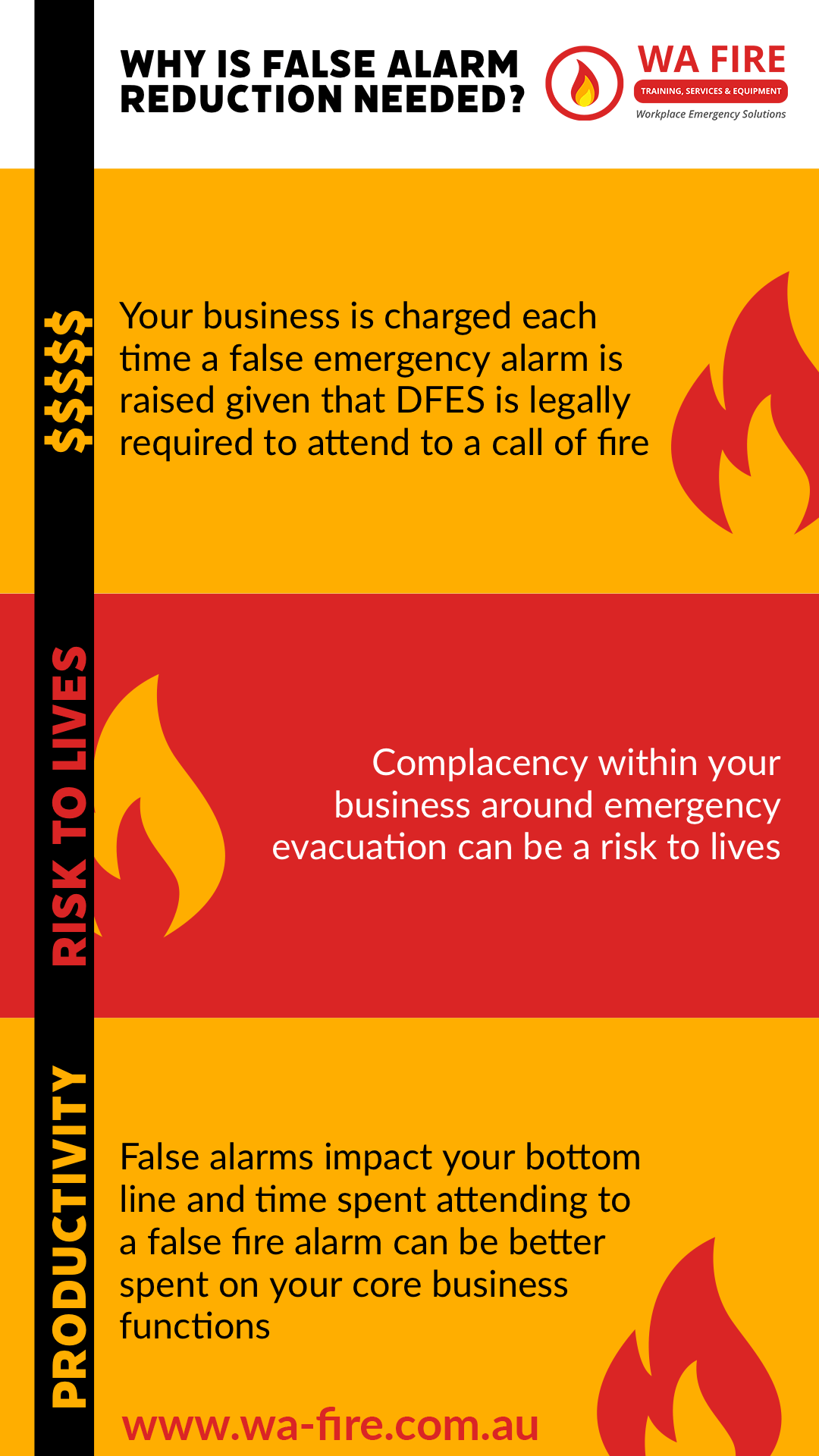 Your business is charged each time a false emergency alarm is raised given that DFES is legally required to attend to a call of fire
Complacency within your business around emergency evacuation can be a risk to lives
False alarms impact your bottom line, time spent attending to a false fire alarm can be better spent on productivity
Did you know?
DFES responded to over 8,500 false fire alarms between July 1 2019 and June 30 2020, which works out to be about 23 false fire alarm attendances each day.
Through a false alarm reduction service package, your business can avoid costly false alarm penalties, which allows us to audit your business.
We evaluate your current fire suppression systems and your existing fire safety provider. Our expert team will quote you on cost effective upgrades to building fire safety and then train your team accordingly.
False alarm reduction is an investment, not an expense. The ongoing savings will be noticed short-term and long-term.
But how do false alarms occur?
Something as simple as a toaster malfunctioning in the communal kitchen or lunchroom
Staff smoking near detectors
Unnecessary production of heat, steam and smoke from manufacturing
Insufficient ventilation in bathrooms and kitchens
Failing to use adequate ventilation when cooking
Failing to isolate renovation or building work – dust, fumes, spraying or steam can trigger alarms
Contact WA Fire Today!
Contact WA Fire for false alarm reduction and discovering potential business savings.